Hey folks.
So, you might remember a while ago I published an engie guide. it was 29 pages long.
But there's an issue there. It's
old
now, and mostly, while a lot of the info is still good, it doesn't have anything about the new stuff. Plus, I think it needs to be said that it was butt-ugly. it got the info out there, and it had some pictures, but it wasn't pretty. Plus, 12-point times new roman is nice for academia and all, but it's sorta harsh on the eyes to be reading for long.
So, I'm in the process of making a V2. I've just started writing, and I'm on the 10th page. I'll give you a hint; it'll far exceed the other one in information packed length. I've got a number of new features planned, including an expansion on sentry placement strategy, specific coverage of using mini-sentries and offensive weaponry effectively, and a guide to getting all of the achievements, should you have any difficulty with them.
Now I know what you're thinking. You're like "That's great, but where is it? I want to read it now!" Well, the thing is, I have a whole whack of ideas to write about, but I'd like some input from YOU. The whole point of any instruction manual or reference guide is to answer people's questions; so what do you want answered?
I can't guarantee I'll include everything, but if I get some good support behind anything beyond what I've already said, I'll do my best to work it in.
Oh, and to prove I'm not kidding about upgrading the graphics and readability:
OLD:
NEW: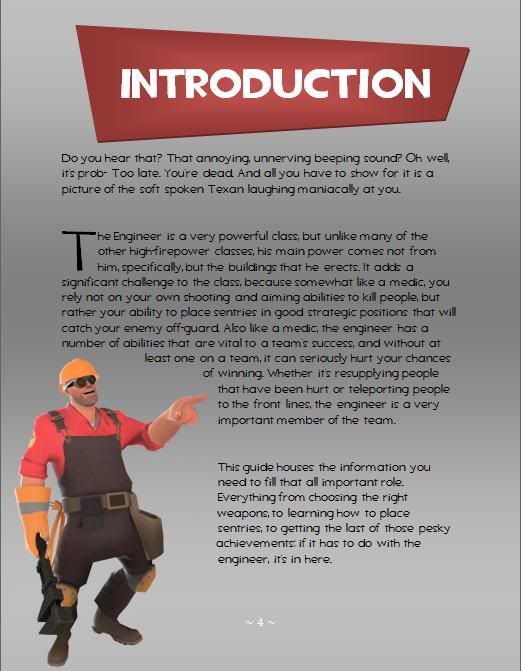 It should be done by the end of the week; Give me some thoughts