Artist:

@december

| Writer:

@Martin @acidity @I cant carry @december

| Editor:

@december

RELEASE DETAILS

Ubisoft is back, and better than ever with the 3rd installment of the Watch Dog series. This time Ubisoft teamed up with HitRecord to give the community their own chance to be a part of the game by giving them a challenge to create new and exciting music for the game! This game is revolutionary and has spent years trying to perfect its fresh take on this open-world, action adventure game. The team may have pushed back the release date over a year, but they made that wait worth it.

Watch Dogs: Legion releases on

October 29th, 2020

for

PS4, Xbox One, Epic Games, and Stadia

. It will be

$59.99 for the Standard Edition

. The Standard Edition is only made up of the base game.

If you want to splash a little extra cash, you could also get the Gold Edition or the Ultimate Edition. Just in case you might be feeling extra fancy, you could get the Collector's edition, but it is

only

available when buying digital versions for the Xbox and PS4. Buying the digital editions for current generation consoles will allow a free diskless copy on new generation consoles.

Gold Edition: $99.99

Base Game
a new story expansion in two episodes
extra DedSec Missions
4 unique heroes including Aiden Pearce
DedSec Car Skin
Watch Dogs®: Complete Edition

Ultimate Edition: $119.99

Base Game
everything in the Gold Edition
3 new playable characters
Set of 3 masks
4-Week VIP Status

Collector's Edition: $189.99

Base Game
everything in the Ultimate Edition
Lighting Ded Coronet Mask
Exclusive STEELBOOK®
DedSec & Albion propaganda posters
Set of 3 stickers

If you were an awesome gamer and pre-ordered any of the Watch Dogs: Legion editions, then you get the Golden King Pack.

Golden King Mask
golden skin for two different pistols
golden skin for vehicles

GAMEPLAY

Watch Dogs: Legion is the third piece in the Watch Dogs trilogy. It just happens to take place in the near-futuristic London that is on the downfall due to the corruption of the private military, organized crime, and state surveillance. The story revolves around a group of hackers called DedSec an organization that is spread out throughout the world. Their sole purpose is to use an operating system for their own success at the cost of the regular citizens. You find out that there have been explosives placed at the Houses of Parliament, when Sabine, London's Dedsec Branch Lead, sends an operative to defuse the bomb, you find out that it has been placed by another group of hackers called "Zero Day." Many months later, the city becomes a surveillance state, where nobody can live their lives normally due to the constant monitoring from the SIRS (Signals Intelligence Response).

Now it's up to you when exploring the urban open world of London and its famous landmarks to recruit a team and fight back while trying to build a resistance to give the city and freedom back to the people.

CHARACTERS

Now, Ubisoft decided on a new style for Watch Dogs: Legion. You are able to play as literally any person that you come across. You get the chance to experience any Londoner's unique backstory, personality, and skillset, which will all come in handy during your various adventures. Best part is you can customize your team with funky outfits and standout masks.

But it is important to think about who you choose. All their lives are in your hands.

NEW FEATURES

Want a new combat experience? Well Watch Dogs: Legion introduces a new melee system. There's even a new range of weapons and abilities that will enhance your gameplay experience, but at the cost of one wrong move will bring real consequences. You might even try using the augmented reality hack to sneak around unnoticed.

MULTIPLAYER

There is an upcoming online feature coming to Watch Dogs: Legion as well. Following an update that should come around December 2020, players will be able to join up in teams of 4 for co-op gameplay. It will even count your progression for both singleplayer and multiplayer modes. Players can either do co-op missions or just patrol around London looking for the bad guys.

There will also be a competitive multiplayer mode named "Spiderbot Arena". You literally get to compete in free-for-all matches where you control a little robotic spider called...a spiderbot.

SYSTEM REQUIREMENTS




MINIMUM


OS:

Windows 10

Processor:

Intel Core i5-4460 or AMD Ryzen 5 1400

Memory:

8 GB RAM

Graphics:

NVIDIA GeForce GTX 970, NVIDIA GeForce GTX 1650, or AMD Radeon R9 290X

DirectX:

Version 11

Storage:

45 GB

But here's the full list of recommended requirements.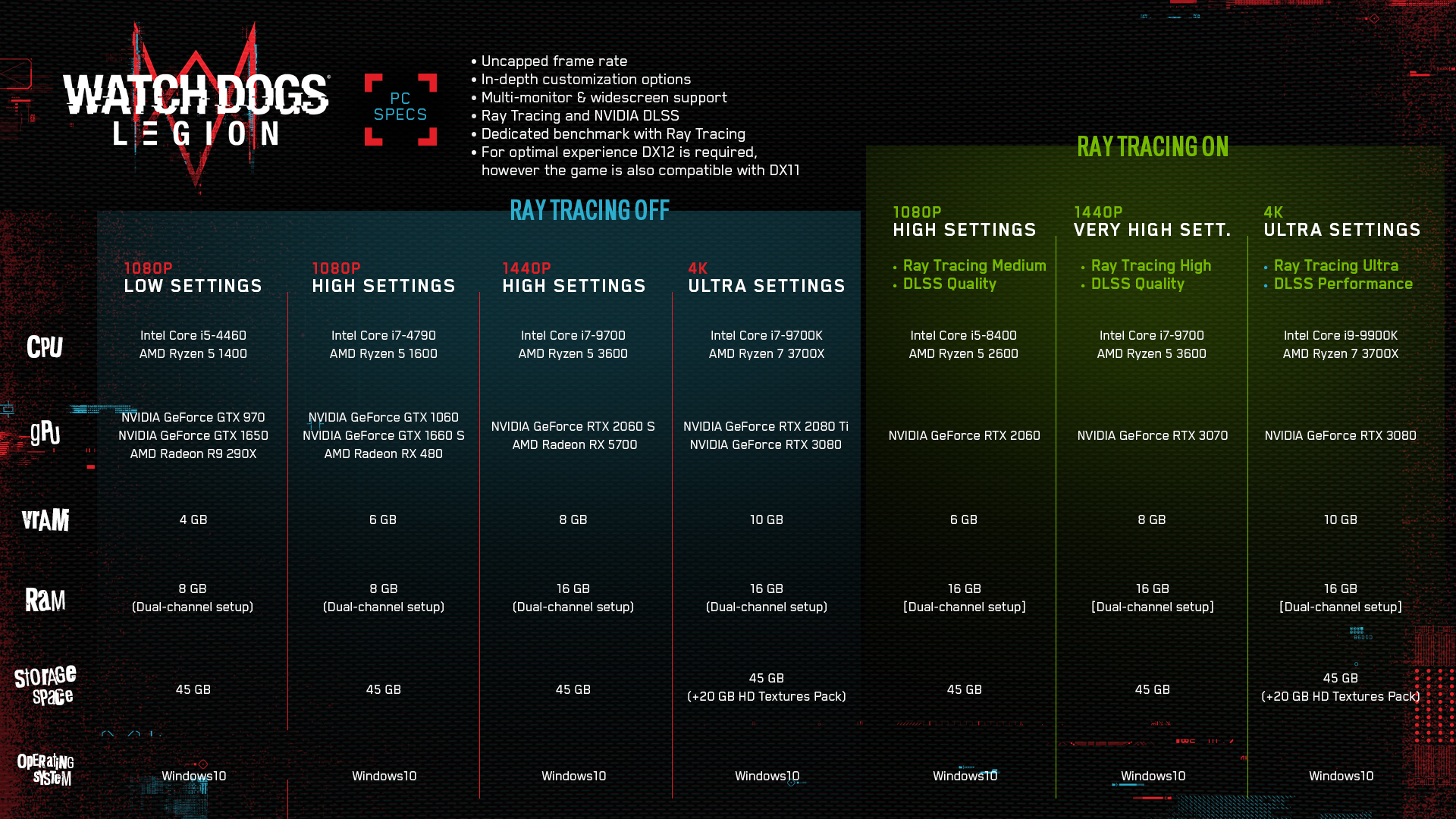 BUY IT HERE!